Continuing Education Classes
WSA offers a variety of continuing education courses to advance your career as a Massage Therapist, Esthetician or Reflexologist.
For more information on WA State Department of Health Massage Board Continuing Education requirements see WAC 246-830-475 WAC 246-830-475
For additional Massage Therapy CE Classes, please visit the Bastyr University Continuing Education Calendar

Massage CE Class Cancellation, No Show and Refund Policy:

Cancellation: We require a 48-hour notice of cancellation in order to receive 100% refund for Massage CE classes. Massage Classes are subject to a 24-hour cancellation notice from the school due to low enrollment. In the event WSA must cancel/reschedule the class, the attendee will have the option of a 100% refund or to be rescheduled in another class of the same value. Classes offered by a third party but are hosted at WSA are subject to the third party's cancellation policy.
No Show: In the event that an attendee does not show to the first day of class or cancels on or after the 48-hour cancellation period, WSA will retain 100% of the class fee.
Any expenses incurred by the attendee from charges that involve travel, accommodations or other expenses related to attending a class sponsored by the school are the sole responsibility of the attendee.

Advanced Esthetics Training Cancellation Policies:
All scheduled courses/ classes/ training are refundable if cancelled 30 days BEFORE scheduled class date. A cancellation fee of $50 will be applied.
☆ 85% of course cost is refundable if canceled 3 weeks before scheduled class date.
☆ 75% of course cost is refundable if canceled 2 weeks before scheduled class date.
☆ 25% of course cost is refundable if canceled 1 week before scheduled class date.
☆ Any cancellations within 1 week of scheduled class is no longer refundable.

ESTHETICS ADVANCED TRAINING (click name/date to register):
Dermaplane Training Sun - July 10th, 2022 Cost: $685 (Including Student Kit)
Dermaplane is a method of exfoliation that consists of using a surgical blade to gently scrape off the top layer of dulling, dead skin cells on the stratum corneum to reveal a smoother, brighter complexion. Vellus hair is completely removed. This treatment is very gentle and great for all skin types, including sensitive, mature, and couperose skin. Less invasive than waxing, microderm or chemical peels. Give your guests immediate results with extremely soft, smooth skin

Brow Lamination Training Sun - July 24th 2022 - Cost: $699 (Including Student Kit)
With a specially formulated BROW (not lash) lift product and a unique brow laminating method, The London Brow Company has created a brow perm that has been exclusive to London Brow Artists, and now you. This is the hottest Brow Technique in our Industry by the first creators of Brow Lamination in the UK. The results are natural and enhancing

Brow Henna And Brow Mapping Training Sun - August 7th 2022 - Cost $825 (Including Student Kit)
Brow Henna is a natural, long-lasting alternative to ordinary tints. Henna is a plant-derived, vegan dye that has been used for thousands of years on skin and hair. Henna is extracted from the fibers of the henna plant. Brow henna is very strongly pigmented, ensuring a sharp shape for brows that lasts much longer than a normal tint. As henna stains the skin temporarily, your guest will get the added benefit of deeper definition for around fourteen days
LED Microneedling Training Sun - August 21st, 2022 - Cost $1220 (Including LED Microneedling Pen in Student Kit)
This training course will teach you the basics of Microneedling, history of this treatment, basic protocols and practices, and the different types of devices medical and non-medical. You will learn, contradictions, evaluation for medical or non-medical treatments. Washington State Laws, safe device operation, before and after care for your clients. NOTE: YOU DO NOT NEED TO BE A MASTER ESTHETICIAN FOR THIS COURSE.



---
Search Classes
---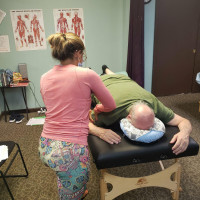 Friday/Saturday July 22nd & 23rd plus Sunday July 24th, 2022
9:00am - 6:00pm each day
24 total hours of CE, in-person and hands-on
Event Details +
---